Book Review: A Cup of Joe by Gini Koch writing as Anita Ensal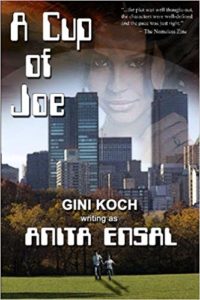 When Emily smiles at David, the Chosen One, as if he's a normal person, his sheltered existence plunges into terror and deception, forcing him to see that the world might not be as perfect as he's always believed. If the choice is between love or perfection, which would you choose?
Originally posted March 19, 2019
Time again to talk about one of my favorite authors and very dear friend, Gini Koch. This time it's definitely a little different with the novelette A Cup of Joe written under the Anita Ensal pen name. Though it lacks the humor you can often associate with Gini Koch. it definitely does not lack the solid writing and story telling. Being a novelette, it makes for a quick read with a very satisfying ending. Be sure to check out www.ginikoch.com for her full bibliography. While I don't currently have copies in stock, arrangements can be made for signed copies.
Rating: 5 Cups of Coffee
Till next time,
See you among the stacks.
Duncan