Book Review: Medusa in the Graveyard by Emily Devenport
Originally written on September 10, 2019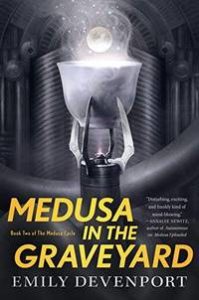 Medusa in the Graveyard: Book Two of the Medusa Cycle by  Emily Devenport

Oichi Angelis, former Worm, along with her fellow insurgents on the generation starship Olympia, head deeper into the Charon System for the planet called Graveyard.
Ancient, sentient, alien starships wait for them―three colossi so powerful they remain aware even in self-imposed sleep. The race that made the Three are dead, but Oichi's people were engineered with this ancient DNA.
Medusa in the Graveyard carries on from where Medusa Uploaded left off. Beautifully written and thoroughly compelling. The Olympian delegation must make their way to Graveyard and to stand before the Three making allies along the way and avoiding enemies. The challenges are different but the tension carries through. Complete with an ending that once again complete the story while leaving ample room for more. I was left with a very satisfied WOW and craving more. I am hopeful that book 3 will be forth coming.
Rating: 5/5 Spaceships
Until next time, See you among the stacks.
Duncan