About
About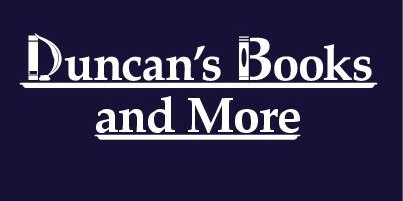 About Our Company
Duncan's Books and More is an independent pop-up and online bookstore based in Phoenix, AZ. We have been finding good homes for books since 2007. From finding a well loved vintage book its next home or a new book it's first owner, we celebrate all the steps on that journey. From selling books online to providing support to authors at book festivals and other events where readers congregate, we strive for integrity and passion for the printed word.
We offer new & used books, signed books, music CDs, board games, and original art creations.
We help others find their dreams, help support ours.
We're a burgeoning business that is striving to grow.
The Crew
Our Team
Duncan is a long time amateur artist and avid reader. He has been involved in selling books online through Amazon, Biblio, and several other sites since 2006. He began Duncan's Books and More in 2007 and in 2014 he began assisting local authors with selling their books at events. Recently he returned to sculpture crafting small critters with polymer clay. You can check his art creations at: Bookwormarts.com. He is assisted at events by his lovely wife Andrea. Andrea is also an avid reader and chief reviewer for this site.
Andrea is a native Arizona girl who loves scifi, fantasy, gaming, and comics in all their forms. When not working a corporate job to pay the bills, she is pursuing her writing career by sticking her butt in her chair and writing what her characters tell her to write. With what little time she has left over, she spends drooling over Dean Winchester and reading as many books as she can. You can find her reviews on here, www.tgggeeks.com,  and www.thenamelesszine.org
Facebook: https://www.facebook.com/andrea.rittschof
Twitter: https://twitter.com/andrearittschof
Duncan
Owner

Contact
Andrea
Head Reviewer

Contact
Let's work together on your next event
We offer author assistance services at numerous local events for a modest commission. We handle all sales and taxes so authors can concentrate on interacting with readers