Book Review: Road to Chaos by Stephanie L Weippert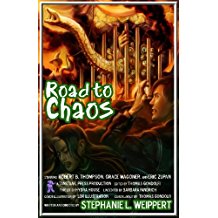 Robert Thompson is a vain, egotistical actor bent on making his mark on Hollywood. On his way to an important audition that may make his career. He never makes it as someone crashes into him. The other car is totaled but his land yacht is barely dented. The looney other driver insists that they get in his car and drive away before the chaos mathamagic police find them. Robert scoffs. Magic is for rubes and what in this crazy man's delusions does chaos or math have to do with it? Robert clings to his beliefs until he finds out that the other driver is his long lost cousin, the magic police try to kill them, and his cousin Eric teleports them to Tibet. Robert finds himself bounced around the globe on a mixed attempt to both evade the brutal mathamagic goon squad and clear Eric's name, all the while hoping that he can return to his real life of movies.
Don't let the great cover art fool you into thinking this is a horror story. This is a road movie in book form full of globe hopping, danger and humor. I started this book in the middle of 2020 not long before life decided to run off with my focus to go play in the neighbor's yard. At just over 200 pages it's not a long book, but it is a great read. Just enough math to explain the premise of mathamagic but not so much that I found myself tuning out like main character Robert Thompson every time someone talks about the complexity of math that allows things to work. Well placed humor and excitement. Satisfying ending with just enough to leave me wondering what next. Overall enjoyable read in spite of the distractions of life in 2020.
Rating: 4/5 Equations
Until next time, See you among the Stacks.
Duncan