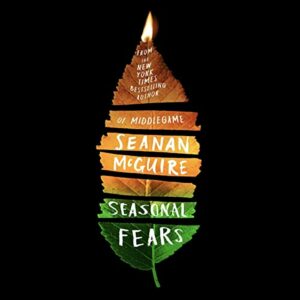 The king of winter and the queen of summer are dead. The fight for their crowns begins!
Melanie has a destiny, though it isn't the one everyone assumes it to be. She's delicate; she's fragile; she's dying. Now, truly, is the winter of her soul.
Harry doesn't want to believe in destiny, because that means accepting the loss of the one person who gives his life meaning, who brings summer to his world.
So, when a new road is laid out in front of them―a road that will lead through untold dangers toward a possible lifetime                                                                                                     together―walking down it seems to be the only option.
                                                                        But others are following behind, with violence in their hearts.
                                                                        It looks like Destiny has a plan for them, after all….
     There has been very little Seanan McGuire has written that I haven't loved. This novel is no exception and there is a reason for that. She is incredibly skilled at creating characters that are multilayered and complex that readers immediately connect with. While that is not the sole cause of how incredible this novel is, it starts there. Both Melanie and Harry are both immediately captivating as they navigate their new reality. Part of what makes them so dynamic is that neither of them is what you expect from the initial descriptions Seanan gives and both have emotional weight and heart to their decisions and their lives. These characters sweep you into the story. The story is multilayered and magical. 
More than just the characters, it is the plot that drew me in. Seanan takes older concepts of elementals, the seasons, and old magic and mixes them into a new completely original idea. She blends romance, magic, and horror with almost giddy abandon and everything sings, everything shines. Not only that but besides the plot, the dialogue will stick with you long after you're done reading. Seanan slides inevitable truths into her dialogue, both witty and profound that captures your heart and makes you believe in the magic of hope and love. Her story is just magical. 
If you love anything Seanan McGuire has written or if the only novel you liked is Middlegame, I truly recommend you pick up this novel. It continues many of the themes and ideas from Middlegame but with new characters and twists. The story connects but also brings its own flair and joy. I love, love, love it and I truly want more immediately. It is multilayered and magical. I can't wait to see what Seanan brings us in this rich and magical world. 
Rating: 5 out of 5 deaths